NZ company says four-day work week trial a success
Comments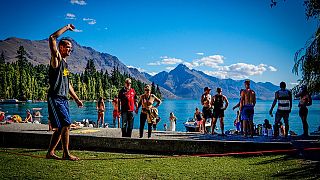 -
A New Zealand company which trialled a four-day work week said the experiment was a success with staff registering a big bump in work-life balance while productivity remained stable.
It is now looking at ways to make the experiment permanent.
Perpetual Guardian started the eight-week trial in early March with all its 230 employees across 16 offices taking part.
During the experiment - conducted alongside academics from the Auckland University of Technology and the University of Auckland Business School - staff worked four eight-hour days but were paid for five.
At the end of the trial, stress levels had decreased from 45% to 38%, work-life balance had jumped from 54 percent to 78 percent, empowerment levels had increased to 86 percent from 68 percent, and commitment to the company grew to 88 percent from 68 percent pre-trial.
Implications:
Andrew Barnes, CEO of Perpetual Guardian, told New Zealand Radio (NZR) on Wednesday that the experiment "goes far beyond the workplace", also addressing mental health, engagement with families and gender pay balance.
"Quite often women returning to work negotiate time off against a salary reduction rather than negotiating about the productivity," he highlighted.
"If you can do it in four days then why shouldn't you be paid the same as somebody who delivers that productivity over 5?"
"This is a debate about productivity. It's a debate about flexible working and actually how we achieve that will change from company to company," Barnes said.
Limitations:
Similar experiments have been carried out in Sweden, although most centered around a six-hour workday.
The most high-profile experiment saw 80 nurses at an elderly care home in Gothenburg work six-hour days for nearly two years with their results compared to nurses at a similar care home who worked a regular eight-hour day.
The trial found that nurses working fewer hours took fewer sick days, had raised their productivity and reported better health. But the project was scrapped after criticism over its cost.
For Barnes and Jarrod Harr, human resource management professor at Auckland University of Technology, the experiment worked at Perpetual Guardian because employees were involved in its deployment.
Individual teams and employees were told to come up with measurements they could be held up against and could then organise themselves in the way they thought best. Employees also had the option to work compressed hours across five days.
"The challenging part would probably be areas like healthcare where unfortunately, you know, people show up to hospitals seven days a week, 24 hours a day, and we can't kind of control that," Harr conceded on NZR.
However, Harr added, the four-day work week could still be rolled out "to a wide range of industries."