Thailand sends messages of hope to young footballers missing in cave
Comments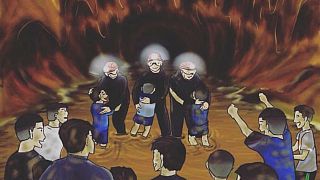 -
Twelve young footballers and their coach have been trapped inside a cave in Thailand for nearly a week.
The boys, aged between 11 and 16, as well as their 25-year-old coach, have been missing since last Saturday when they entered the Tham Luang cave complex in the northern Chiang Rai province.
The boys' bicycles and football shoes were found near the entrance, and rescue workers think handprints inside the cave could have been left by the group.
Messages of hope on social media
Thais have taken to Twitter to convey their messages of hope.
A hashtag, which translates as "the strangers we want to meet the most", is being used to convey the nation's support for the group.
On Friday, Thailand's Prime Minister Prayuth Chan-ocha visited the site. He told officials "whatever can be done, do it, the government will back it... I'm not worried about the work of the staff but I'm worried about time elapsed for those lost inside the cave."
Rescue efforts
Thailand's military commander in the area said the three British divers — reportedly from the British Cave Rescue Council — are assessing the situation.
Thirty members of the United States Pacific Command (USPACOM) have also joined in the search, according to Thailand's Deputy Prime Minister Prawit Wongsuwan. Thailand's elite Navy SEAL unit has also been involved in the operation.
Heavy rain and flooding inside the cave have hampered the search effort, which was halted on Thursday by rising water levels that filled underground passages. Floodwater was said to have risen to the ceiling of one of the chambers and almost reached the cave's entrance.
The authorities said more water was coming into the cave than could be pumped out, forcing them to look for another way in. Plans to drill into the mountainside to drain water from the inside cave have been partially successful. Rescue workers have also been scouring the top of the mountain looking for alternative entrances.
Teams have been focusing on a 7-kilometre long route which it's believed the boys and the coach took. Belongings including bikes, shoes, and backpackers were found near the entrance.
The boys are from a local football team nicknamed the "Wild Boars". They entered the cave after training on Saturday.
The authorities say they're optimistic the boys are still alive, noting that tourists trapped in the cave by past floods have been rescued after waters receded.
Close to the border with Myanmar, the cave is prone to flooding during the rainy season between June and October. It extends for several kilometres and has wide cavities and narrow passageways.
Family members have been camping out nearby. In an attempt to comfort them, Thailand's Prime Minister told them: "They're athletes. They're strong."