Supreme Court upholds President Trump's travel ban on a group of mostly Muslim countries
Comments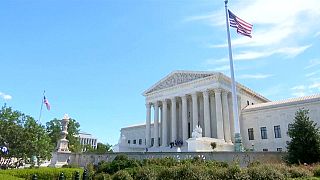 A sharply divided Supreme Court has upheld President Donald Trump's ban on travel from several mostly Muslim countries.
The ban prohibits most people from Iran, Libya, Somalia, Syria and Yemen from entering the United States.
The 5-4 decision was a big victory for Trump in the court's first substantive ruling on one of his administration's policies.
But a dissenting liberal justice said the court was making a historic mistake by refusing to recognize the ban discriminates against Muslims.
Some Republican lawmakers had reservations however.
Arizona Senator Jeff Flake questioned the wisdom of the policy, though he agreed with the Supreme Court that the policy is constitutional.
And Florida Republican Senator Marco Rubio said there were two issues to consider.
"One is whether the president has an authority to say that there are countries that whose visa vetting systems we don't trust and therefore we're not going to allow people to come in, and another whether it's a good idea."
Denounced by Democrats and civil rights groups, the ruling has boosted Trump's administration as he faces intense opposition over his hardline policies on illegal immigration along the US-Mexican border.