Afghanistan's Abdullah won't rule out running for president, sharing power
Comments
By Reuters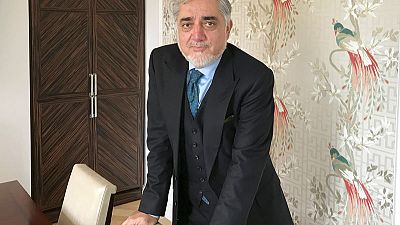 By Peter Graff
LONDON (Reuters) – Abdullah Abdullah, the political leader who twice backed down from election disputes that plunged Afghanistan into crisis, said on Thursday he had not ruled out standing again next year, and might agree to share power with his opponent.
Abdullah narrowly lost presidential elections in 2009 and 2014 that he disputed as fraudulent. Both times, standoffs after the vote paralysed the country for months and threatened to unravel a political system backed by thousands of U.S. troops.
He now serves under his most recent opponent, President Ashraf Ghani, as "chief executive" of a unity government in an ad hoc, U.S.-brokered power-sharing arrangement that ended the second electoral impasse four years ago.
Abdullah is the heir to the powerful political faction once known as the Northern Alliance, a multi-ethnic coalition of guerrilla movements that fought against the Taliban and allied with the United States after the September 11 attacks.
Asked in an interview with Reuters in London if he would stand again next year, Abdullah laughed at the suggestion he might announce it while abroad, but he also did not deny it.
"Do you think that to make that announcement here would be the right thing to do?" he said with a chuckle. "No. I am not saying this will not be the case, but I have not decided yet."
But he said it was vital that Afghanistan find a way to ensure that it can hold elections without a repeat of the existential crises that erupted the last two times he stood.
"That's our hope. I don't want anyone to go through the same thing and see the same risk involved," he said.
The best way to achieve peaceful transitions of power was to reform the constitution, which places too much authority in the hands of whoever becomes president, and leaves the followers of the winner's opponents in the wilderness.
"There is an inherent problem in such a highly centralised system, which leads to challenges and has led to challenges in the past," said Abdullah.
In the last two elections, he narrowly lost to rivals – first Hamid Karzai and then Ghani – who drew a greater share of their support from the south of the country and from the Pashtun community, Afghanistan's biggest ethnic group.
In both cases, the rival candidates accused their opponents' followers of widespread fraud in parts of the country controlled by their allies. The disputes threatened to cleave Afghanistan on regional, ethnic, sectarian and linguistic lines, and were finally resolved under intense pressure from the United States.
"COUNTRYWOULDN'T HAVESURVIVED"
Abdullah said it was only his own personal decision to step aside that ended both crises, and Afghans should create a system that encourages power-sharing, so that they do not have to rely on future politicians behaving as he had.
"The point is, that the country wouldn't have survived without the unity government," he said of the 2014 crisis.
"I'm not taking the credit for myself, but the reality was, that had it been any other politician that I have known in the country, he would have reacted differently… So that was a big risk for the country, to rely on the faith of one person to make the right decision or a bad decision. The country should never be put in that sort of situation anymore."
To prevent it, he would create a parliamentary system with an executive prime minister, similar to the post that he now holds but as a permanent feature of the constitution, rather than the result of an ad hoc political deal.
Such reform has been held back by a delay in holding parliamentary elections, which are now set for next year, two years later than agreed under the 2014 unity deal, he said.
Asked if presidential candidates might agree to extend the 2014 unity pact beyond the next election, by offering in advance to give the chief executive post to whoever came second, he nodded: "Could be. Could be."
If he did choose to run, he said, he would be open to making such an offer to his opponent, although that remained a hypothetical question.
"When I believe that there has to be this sort of power-sharing arrangement, it's not that if I were the president I wouldn't want this because I would want everything for myself," he said. "That's my understanding of the society and the needs of the country and the necessity."
Ultimately, he said, it would be up to Afghan voters to choose as their next president someone who believed in sharing power with opponents.
"If somebody is elected and he believes in a highly centralised system and a one-man-show, that's a different issue."
(Editing by Toby Chopra)