Pope blocks German plan for Protestants to receive Catholic communion
Comments
By Reuters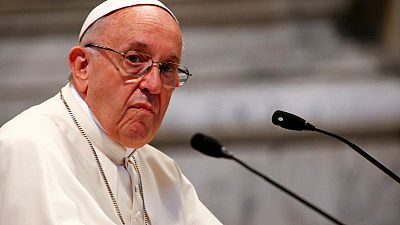 VATICANCITY (Reuters) – Pope Francis has blocked a move by German bishops to allow Protestants married to Roman Catholics to receive communion in Catholic churches, a prospect that had alarmed conservatives.
The issue has sparked major debate in Germany, where Martin Luther sparked the split in Western Christianity 500 years ago. Even German President Frank-Walter Steinmeier, a Lutheran, has entered the debate.
The pope's decision was made known in a letter by Archbishop Luis Ladaria, head of the Vatican's doctrinal office, to Cardinal Reinhard Marx, head of the German bishops' conference.
It was reported by the German Catholic news agency Kath.net on Monday and the Vatican confirmed its authenticity.
A majority of German bishops voted this year to publish guidelines that would have made it easier for Protestants to receive Catholic communion – bread and sometimes wine that have been consecrated.
Catholics believe these become the body and blood of Christ; some Protestants, notably Lutherans, say Christ is present in the sacrament.
Protestants are currently allowed to receive Catholic communion only in extreme circumstances, such as when they are in danger of death.
The German bishops who supported what is known as "inter-communion" in marriages between Catholics and Protestants argued that it was the compassionate thing to do. Steinmeier, who is married to a Catholic, also supported that view.
But seven conservative bishops were opposed, saying that communion was central to the Catholic faith and the issue should not be decided by local churches.
In the letter, written with the pope's approval, Ladaria says the German document "raises problems of notable relevance" for the whole Church around the world.
Catholic conservatives in other countries had also argued that such a change would dilute Catholic identity and confuse the faithful.
Archbishop Charles Chaput of Philadelphia wrote that it would be "the first stage in opening communion to all Protestants … since marriage ultimately provides no unique reason to allow communion for non-Catholics".
(Reporting By Philip Pullella; Editing by Kevin Liffey)