NBA Finals preview: Golden State Warriors vs the Cleveland Cavaliers
Comments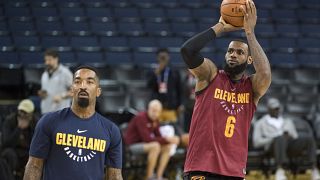 The NBA finals is rapidly becoming baskeball's version of Groundhog Day.
It's another dustup between the Golden State Warriors and the Cleveland Cavaliers.
The same two outfits for a fourth straight year.
Lebron James is heading to his eighth consecutive finals and his ninth overall.
For the Cavaliers to win, the 33 year old will need to play the series of his career.
The Warriors were established as huge favorites for the best-of-seven finals.
It's a matchup that was predicted by many pundits at the beginning of the season.
The champions will need to tighten their defence to contain James.
But if Steph Curry, Kevin Durant and Klay Thompson are on form, there is little anyone can do to stop the warriors from winning.