'One year is enough!': Anti-Macron protests continue in France
Comments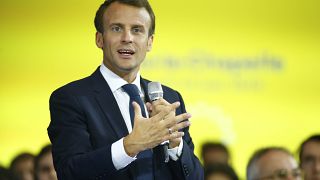 Thousands of people have assembled in Paris to protest ahead of French President Emmanuel Macron's one year anniversary as leader.
Sunday's crowd united under the banner "One year is enough" against the former investment banker's policies concerning labour reforms, privatisation and workers' rights which have sparked numerous other demonstrations in recent months.
On May 5, tens of thousands marched through the French capital for a protest sarcastically dubbed "Fête à Macron" (Party for Macron), during which 2,000 security officials lined the streets to quell violence which marred another demonstration on May 1.
Macron, 40, scored a landslide election victory against Marine Le Pen on May 7, 2017 and took office a week later. His campaign centred on a pro-EU platform, in which he vowed to drive economic and defence initiatives in the Union in the wake of Brexit and Donald Trump's US election.
But critics fear the centrist La Republique En Marche! leader is also dismantling the French way of life with his policies, some of which seek to increase police powers, raise taxes for retirees, lower social security payments and cut workers' rights.
"What we want specifically is to resist, show him our anger, show him that there are some French people who did not vote for him, do not agree with what he is trying to do and will resist in so far as we can," said Sylvie Brissonneau, who took part in the May 5 protest.