As it happened this morning: Thursday 10 May
Comments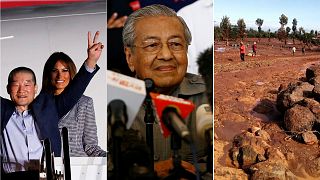 Good morning, Europe! Here are the key stories we will be following today, Thursday, May 10:
Israel/Iran strikes: Israel and Iran exchanged missile strikes in Syria, with Iran targeting positions in the Golan Heights and Israel hitting back at military infrastructure. The incident is the most significant direct confrontation between the two powers since the conflict in Syria began.
Iran nuclear deal: France's Emmanuel Macron will meet Germany's Angela Merkel in Aachen as Europe scrambles to salvage the Iran nuclear deal, which was plunged into crisis on Tuesday when Donald Trump announced the US was pulling out.
Euthanasia debate: David Goodall, a 104-year-old scientist from Australia, is expected to end his life at a clinic in Switzerland.
North Korea:A trio of US citizens, freed in North Korea on Wednesday, are arriving back home amid a thawing of relations between Washington and Pyongyang. It's being viewed as a goodwill gesture ahead of a historic summit between Donald Trump and Kim Jong-un.
Kenya dam burst: A dam burst late on Wednesday in a Kenyan town causing "huge destruction" and death said a government official on Thursday.
Follow our live coverage of events here: