Novichok-type nerve agent 'produced in Czech Republic last year'
Comments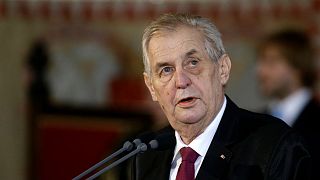 The nerve agent type used to poison an ex-Russian spy in Britain was produced last year in the Czech Republic, it's been claimed.
It was manufactured in a small amount, tested and destroyed, according to the country's president, Milos Zeman.
He was quoting a report he ordered from the country's military spy agency on the Novichok nerve agent.
It was commissioned after suggestions from Russia that the substance used to poison Sergei Skripal and his daughter Yulia in Salisbury, England, might have originated from the Czech Republic
But Zeman admitted there was a lack of clarity about what nerve agent was produced in the country last year.
The pro-Russian president said a Czech counterintelligence agency said it was A230, while Zeman said he believed it was Novichok.
The government did not immediately comment on Zeman's remarks.
Officials in Russia had previously suggested that the Novichok used in the UK attack might have come from Czech Republic, Sweden or Slovakia.
Acting Czech Prime Minister Andrej Babis called it a lie.
The Czech Republic expelled three Russian diplomats in solidarity with Britain following the poisoning.