Watch: US military releases video of Tomahawk missiles being fired towards Syria
Comments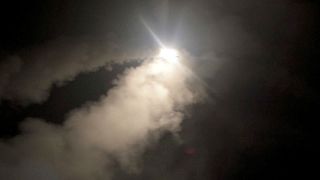 Copyright

Navy Lt. j.g Matthew Daniels/Handout via REUTERS.
The US Department of Defense released video footage on Saturday of the guided-missile destroyer USS Monterey firing Tomahawk missiles into Syria.
US, British and French forces launched 100 airstrikes on Syria overnight on Friday in response to a suspected poison gas attack in the town of Douma that killed dozens of people.
Leaders of the three countries said they sought to degrade Syria's chemical weapons capabilities in the biggest intervention yet in the conflict by Western powers.
Among the sites reportedly hit was the Scientific Studies and Research Centre, which has played a key role in Syria's chemical weapons programme since the 1970s.
In a media briefing on Saturday, the Pentagon said it had successfully hit every target.