Brazil's former president rallies support as he awaits prison decision
Comments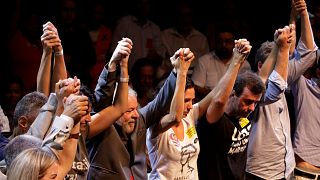 Former Brazilian President Luiz Inacio Lula da Silva told a gathering of supporters on Tuesday that he wants his innocence returned.
The frontrunner for October's election faces 12 years in prison on corruption and money laundering charges.
The Supreme Court is due to decide on Wednesday if he will go to jail or not.
"I don't want any personal benefit," Lula told the crowd. "I just want justice and that they say what's the crime I committed, and if I committed a crime, you will know to judge me better than them."
Lula, as he is commonly known, remains highly popular among Brazil's millions of working-class people.
Attending the rally were various personalities as well as representatives of left-wing parties.
The event also featured a speech by the widow of Marielle Franco, the 38-year-old black councilwoman known for being born in a shantytown and defending the rights of the homosexual community. She was killed on the night of March 14.
Anti and pro-Lula demonstrations were expected Tuesday, a day ahead of the court's final decision.