Thousands protest across Ireland for second day over rugby rape trial
Comments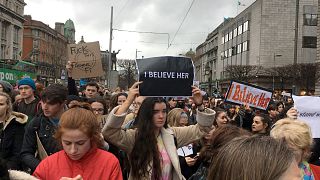 Discontent over the handling of a rape trial involving two Ireland rugby players is showing no sign of abating as thousands of protesters took to the streets for a second day on Saturday. The acquittal of Paddy Jackson and Stuart Olding on rape charges against the same woman, as well as not guilty verdicts for two of their friends on Wednesday, has inspired solidarity rallies for the complainant across the island of Ireland.
Demonstrators marched in Dublin, Belfast, Cork and Galway, and shared pictures of the rallies on social media under the hashtags #IBelieveHer, #WeStandWithHer and #SueMePaddy.
The latter references libel action being waged against Irish senator Aodhan O Riordain by Jackson. Lawyers representing the 26-year-old said Friday that they had not choice but to notify the Labour senator of their intention to sue for "defamatory comments" after he questioned the outcome of the court case, dubbing the defendants "smug, well-connected middle-class boys".
The weekend protests follow national rallies which took place on Thursday.
Jackson was cleared of rape and sexual assault on Wednesday, while his teammate Stuart Olding was cleared of rape against the same woman at a house in south Belfast in June 2016. Two other men were also cleared: one of exposure, and the other for perverting the course of justice.
A jury of eight men and three women deliberated for less than four hours before returning a unanimous not-guilty verdict.
Gruelling details from the court case were played out in public and saw the woman in the witness box for eight days as she was cross-examined by four legal teams.
During the nine-week trial, which pitted the woman's word against the defendants, the bloodied garments and underwear of the complainant were passed around the room. Although she was seated behind a curtain as she gave her evidence, she was in full view of the dock and the gallery as her statements were transmitted on a TV screen. While it is illegal to name the complainant, her identity was soon shared widely.
Women's rights organisations warned of the effect the trial will have on rape victims coming forward. While accepting the court's verdict, the Dublin Rape Crisis Centre wrote: "Those who report in cases where the defence claims the sex was consensual will be afraid of the treatment they may receive in court. And yet, if complainants don't report, rapists will not be brought to justice."
In a column, DRCC chief executive Noeline Blackwell said, "We believe that recognising when a complainant is being unfairly treated will not detract from the rights of an accused. The rights of all must be maintained. The object of the trial should be to identify whether criminal behaviour occurred with the minimum of trauma to all parties."