May says Vote Leave fraud allegatiions will not derail Brexit
Comments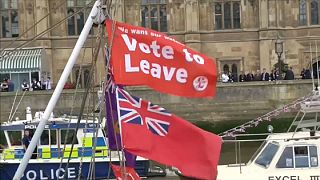 British Prime Minister Theresa May says her government will continue with plans to leave the European Union, despite allegations that the Leave campaign received illegal funds.
May said during Prime Minister's Questions: "Can I simply say this. If there are those who are trying to suggest that the Government should be rejecting the result of the referendum as a result of these sorts of claims, I will say very clearly, the referendum was held, the vote was taken, the people gave their view, and we will be delivering on it."
Two separate whistleblowers, one from Cambridge Analytica and one from within the Vote Leave group have instructed lawyers to hand over evidence to the Electoral Commission to outline their claims that Vote Leave acted illegally.
The allegations have scandalised Brexit, one year before the UK plans to leave the EU.
Facebook's Mark Zuckerburg has been forced to apologise for how his company used people's data and questions have been rasied about how tech companies have intervened within democratic processes.
Vote Leave officials deny breaking election rules and call this an attempt to undermine Brexit.