Vienna locals express shock over stabbing spree
Comments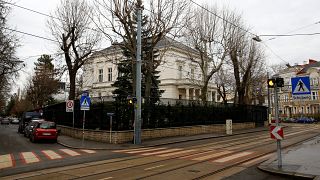 A series of stabbings in Vienna, including that of a soldier outside the Iranian ambassador's residence, has left local people in shock.
The knifeman, shot dead by the soldier, was a 26-year-old Austrian of Egyptian origin.
Authorities say he sympathised with radical Islamist ideology although it is too early to say what his motive was.
"I am a neighbour, next door, so it was a terrible thing," one local woman told Euronews.
"I heard it in the morning at seven o`'clock and I am here every day two times in front of the residence."
"You are certainly more aware, especially when it happens so close to you," another woman added.
"But there is not much that you can do. "
The Austrian soldier, on duty outside the residence on Sunday, was injured but not seriously.
Vienna has so far been spared deadly Islamist militant attacks like the ones in Paris, Brussels and Berlin in recent years. Although only the assailant was killed in this attack, a connection with radical Islamism would be a concern for Austrian officials.
Islamist militancy has been ruled out as a motive in separate knife attacks carried out in another area of Vienna last Wednesday night.
A citizen of Afghanistan was arrested in connection with those attacks, in which four people were seriously injured.
with Reuters