Italy: More than 70 counts of violence in month leading to elections
Comments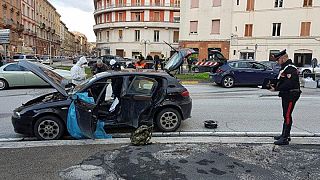 After an attack on migrants carried out by 28-year-old Luca Traini in the central Italian city of Maccerata on February 3, at least a dozen other violent episodes have marked this election season.
Italian daily Corriere della Sera has recorded 70 acts of violence including stabbings, shootings, arson, paper bombs, beatings in the last month and a half.
Italian authorities fear that clashes between extremist groups may increase in the week before the elections.
An information report transmitted to the parliament on February 20 highlights the high risk of violence between the two opposite factions before the election.
The violence, the report says, is a "phenomenon started by the political hooliganism of both extreme parties, triggered by the rise of anti-immigration policies of the far-right."
As a result, various anti-fascist protests were scheduled to take place on Saturday (February 24): the national anti-fascist protest in Rome, the neo-fascist CasaPound rally in Turin and Naples, far-right Forza Nouva protest in Trieste and Palermo, and Lega Nord, CasaPound, and Forza Nuova joint protest in Milan.
Here we revisit the main episodes of violence that have marked this year's electoral campaign.
• Brescia: Fire at a left-wing community centre (23/02)
• Turin: Throwing of paper bombs with nails inside at a protest against the neo-fascist CasaPound (22/2)
• Perugia: Members of left-wing party Party to the People stabbed while putting election posters on the street (21/02)
• Rome: Headstone of diseased statesman, Aldo Moro, graffitied with swastika and inscription that reads "death to the guards" (21/02)
• Palermo: Arrest of two people for attack on Forza Nuova local leader (20/02);
• Rome: Group of Forza Nuova activists break into La7 television studios and try to intervene during live recording of talk show (20/02)
• Bologna: Clashes between the police and activists during Forza Nuova rally
• Enna: Fire in a center hosting migrants, no injuries reported (15/02)
• Sermoneta: Bottle with fire thrown at a migrant centre (15/02)
• Livorno: Anti-fascist rally during visit of leader of the far-right Brothers of Italy party, Giorgia Meloni (13/02)
• Placenza: Clashes between anti-CasaPound demonstrators and party members. Italy's police force, the Carabiniere, were encircled and beaten by protesters with masked faces (11/02).
• Cagliari: Clashes between CasaPound supporters and anti-fascist protesters concerning election posters.
• Brescia: Paper bombs against occupied houses (10/02)
• Pavia: Five North Africans allegedly beaten by skinheads (05/02)
• Macerata: Luca Traini attacks against six immigrants of African-origin (03/02) 
_Methodology: The list was compiled with the help of this interactive map showing attacks and assaults by far-right parties and to local articles on the incidents. _