Kosovo takes to the streets to celebrate a decade of independence
Comments
By Jorgen Samso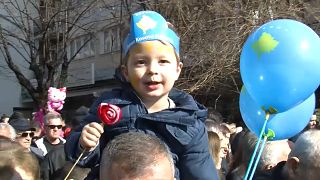 Hundreds of people took to the streets of Kosovo on Saturday to celebrate their tenth anniversary of becoming an independent country.
Traditional musicians took part in a parade and procession down the main shopping street in the capital Pristina, while people waved Kosovan, Albanian and American flags to celebrate statehood.
"I'm happy and it was a big step for Kosovo to a its own state," one resident, Florina Hyseni, told Euronews.
"When I think about I'm very happy and proud of our country."
The festivities continued into the night with a concert from the pop star Rita Ora.
But the anniversary is not a celebration for everyone.
It is a moment of pride for Kosovo's ethnic Albanian majority, but Serbia and ethnic Serbs who live in northern Kosovo continue to contest its independence.
More than 110 countries have recognised Kosovo as a state over the past decade.
But Russia, Spain and Greece are among several countries that do not consider it a separate country.