Watch: Pine Island glacier readies for another crack
Comments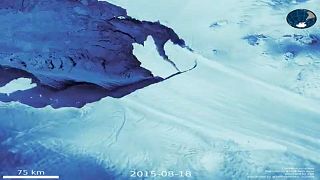 Researchers have alerted of a new rift at the Pine Island glacier that is strikingly similar to the ones that led to massive splits last year and in 2015.
Professor Stef Lhermitte published a photo on Twitter based on NASA's Landsat satellite imagery. It shows new cracks "very similar" to those massive "calve events".
The animation, obtained with ESA's Sentinel 1 satellite photos, shows the evolution of the glacier's front from October 2014 until the beggining of February 2018.
The most disturbing is probably how quickly the icebergs melt after the massive 2015 and 2017 cracks.
Lhermitte told Euronews the glacier calving is part of the normal life cycle of a floating glacier tongue. "Since 2000 there have been five large calving events and the glacier front has gradually retreated. The pattern of calving however has changed a bit though: 2015 and 2017 are different from previous events as the calving results from internal rifts with calving fronts further inland."
Asked if the recent events are a result of climate change, he doesn't pronounce himself but recalls the investigations of colleagues like Seongsu Jeong suggesting that climate change is probably involved in these dramatic changes.