Grenfell Tower activists organise 'Three Billboards' stunt in London
Comments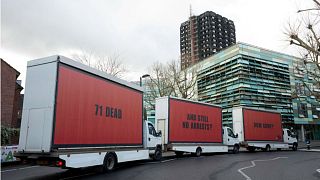 Activists from Justice 4 Grenfell, a UK-based activist group, drove three vans with placards attached to them around London on Thursday, marking the eight-month anniversary of the Grenfell Tower fire.
The group took inspiration from the plot of recent film Three Billboards Outside Ebbing, Missouri, where a woman paints three signs at the entrance to her town with a message for the local police chief.
Placards with the words "71 dead", "And still no arrests?", "How Come?" drove past many landmarks in the capital, including the Houses of Parliament.
Justice 4 Grenfell organised the stunt to "raise awareness around the lack of arrests" in the enquiry into the Grenfell Tower fires in June 2017.
"Eight months on from the tragedy of the Grenfell Tower, the issue is being ignored," the group said in a statement on its website said.
"71 people died in the Grenfell Tower. And still no arrests. And still 297 flammable towers. And still hundreds of survivors are homeless. And still they are not represented on the inquiry. And still there is no justice."
The activists parked the vehicles outside the charred remains of the north Kensington block after touring around central London.