The Queen is taking Buckingham Palace plastic free
Comments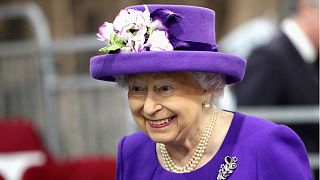 Queen Elizabeth II of the United Kingdom is on a mission to ban plastic tableware at Buckingham Palace.
A palace spokesperson told Euronews that it was set to phase out the use of straws and bottles at her London residence and other royal estates, among other measures.
The use of straws will gradually be stopped in public cafes and completely banned in staff dining rooms.
Caterers at Buckingham Palace, Windsor Castle, and the Palace of Holyroodhouse will instead use china and glass crockery as well as recyclable cups.
The Royal Collection cafes will serve food in compostable or biodegradable packaging.
An effort will also be made to reuse packaging to move goods and materials between different royal sites.
Inspiration for the changes is thought to have stemmed from the Queen's meeting with veteran naturalist Sir David Attenborough, a vocal environmental activist.
The pair, both 91, were filmed talking during a programme that discussed plans to create national parks across the Commonwealth's 52 countries.
The spokesperson for the Royal Household said: "Across the organisation, the Royal Household is committed to reducing its environmental impact. As part of that, we have taken a number of practical steps to cut back on the use of plastics."
They said Buckingham Palace has seen a 5.1 per cent reduction in waste tonnage during financial year 2016/17.