Zimbabwe opposition leader Morgan Tsvangirai dies after cancer battle
Comments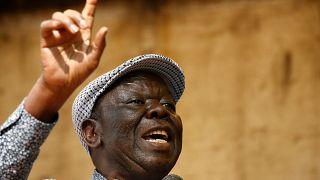 Zimbabwe's opposition leader Morgan Tsvangirai has died aged 65 after a long battle with cancer. 
The Vice President of his Movement for Democratic Change said the family has confirmed his death and that he passed away in hospital in South Africa, where he had been receiving treatment.
"I can confirm that he died this evening. The family communicated this to me," Elias Mudzuri told Reuters.
Described as Zimbabwe's most popular politician, Tsvangirai was known for his struggle with ex-president Robert Mugabe, who resigned after a de facto coup in December.
Tsvangirai suffered serious physical abuse at the hands of security forces, including serious head injuries in 2007. However, he went on to form an uneasy working relationship with Mugabe in a 2009-2013 coalition government.
His death leaves his party in disarray with elections due in the next six months.