Oxfam International Chairman Fuentes Knight arrested
Comments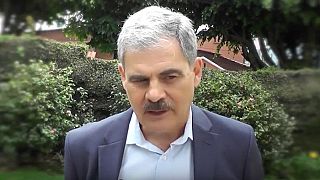 Oxfam International Chairman Juan Alberto Fuentes Knight was arrested on Tuesday amid a local corruption probe, according to Guatemala's Attorney General's Office.
Fuentes Knight — a former minister of finance of Guatemala — and former President Alvaro Colom are two of 10 people detained as part of a public transport graft probe.
The investigation involves bus purchases made during Colom's administration, said chief anti-corruption officer at the public prosecutor's office Juan Francisco Sandoval.
Back in 2009, then-President Alvaro Colom announced the purchase of new buses. As part of the deal, a partnership with the National Bank for Economic and Social Development of Brazil was established to buy 3,150 buses. However, only 455 arrived in Guatemala, said Attorney General Thelma Aldana.
Under Fuentes Knight, the ministry of finance invested almost €30 million as subsidies for the buses.
Auditors later found there was no formal oversight of the subsidies given by the Colom administration.
"The pay of the subsidies was handled with a series of daily reports that did not get any administrative control," said the auditors to Prensa Libre.
Fuentes Knight was appointed chairman of Oxfam International in 2015.
Oxfam's troubles deepen
Fuentes Knight's arrest marks the latest blow for Oxfam, which is in crisis over its handling of alleged sexual misconduct by its aid workers in Haiti and Chad.
The NGO is accused of concealing the findings of an inquiry into claims that staff used prostitutes while delivering aid to Haiti following the 2010 earthquake.
The charity was allegedly aware of concerns about the conduct of two of the men at the centre of the allegations when they previously worked in Chad.
Guatemalan media has said Fuentes Knight's arrest is not related to the Oxfam scandals in Haiti and Chad.
Oxfam Great Britain's deputy chief executive, Penny Lawrence, resigned on Monday, saying she was "desperately sorry for the harm and distress" caused by the controversy.
"As programme director at the time, I am ashamed that this happened on my watch and I take full responsibility," she said in a statement.
The humanitarian group received £31.7 million (€35.6 million) in UK government funding in 2016/17 but the support has been put at risk by the scandal.
A further £29.3 million (€32.9 million) in EU funding could also be at risk, with the European Commission warning that it has a "zero tolerance" approach to any group failing to meet its ethical standards.
In a tweet this week, Fuentes Knight condemned the actions of the Haiti aid workers, saying: "I condemn the actions of the Oxfam group in Haiti in 2011."
"This represents a blow to the actions of good people working for Oxfam with whom I identify, who have provided support to disaster victims and injustice."
At the time of Fuentes Knight's appointment in 2015, Oxfam said in a statement at the time that his hiring: "coincides with a time of institutional change within Oxfam as it reorganizes its confederation to become a more global, stream-lined and influential one."
"I am excited by the chance to help shape Oxfam's changes as it seeks to become an even more innovative force around the world, especially in using its knowledge with partners and allies to make a greater impact on global development issues. These changes will further the organization's core goals that remain to reduce poverty and inequality, and help people to seize the opportunities of making better lives," Fuentes Knight said in 2015.