Deadly tropical storm hits eastern Philippines
Comments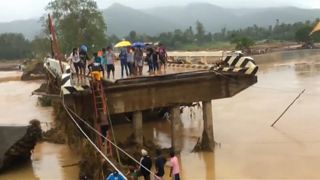 At least 26 people are reported dead and more than 20 others missing in flooding and landslides in the Philippines.
The east of the country is being battered by tropical storm Kai-tak, with the province of Biliran said to be the worst affected.
The storm is hitting islands and coastal areas still recovering from a typhoon that killed more than 8,000 people in 2013.
Tens of thousands of residents have been evacuated from flooded towns and the coast guard is attempting to reach people stranded in numerous island communities.
Several provinces were placed under heavy storm warnings.
Winds gusting up to 110 kilometres per hour have been reported in some areas.