London buses get a shot of coffee
Comments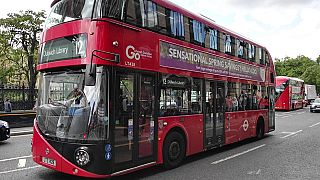 London's buses got a double shot of energy on Monday – from a new bio-fuel made from coffee.
Some six thousand litres of oil extracted from ground coffee waste have been added to the city's public fuel supply – enough to power one London bus for a whole year.
Londoners drink an average of 2.3 cups of coffee a day – resulting in some 200,000 tonnes of coffee waste every year.
Technology company bio-bean wants to recycle that waste and turn it into a renewable fuel. It's a venture that already has backing from fossil fuel giant Royal Dutch Shell.
bio-bean collects used grounds from coffee shops across London and processes them at its factory. The resulting coffee oil is then topped up with animal or vegetable fuel and mixed with diesel. The final product can be used by buses, taxis, cars and trucks.
The company says the coffee mixture can reduce carbon emissions from bus journeys by up to 15 percent, without the need to modify engines or spend more money.