Abu Dhabi celebrates the opening of the Louvre museum
Comments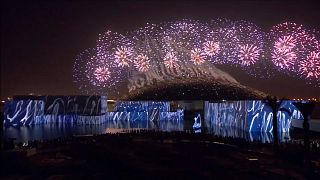 Abu Dhabi celebrated the opening of its Louvre museum on Thursday (November 9) with a fireworks display, complemented with performance artists and colourful projections.
The United Arab Emirates capital is positioning itself as a city of cultural tourism with a display of hundreds of works it hopes will draw visitors from around the world.
Surrounded by water from three sides, the Abu Dhabi Louvre houses 600 acquired artworks and 300 works on loan from 13 leading French institutions in its 23 permanent galleries. The artists range from Paul Gauguin and Vincent Van Gogh to Pablo Picasso and Cy Twombly.
French President Emmanuel Macron was the guest of honour for the inauguration of the museum on Wednesday (November 8), along with other heads of state. The museum opens to the public on Saturday (November 11).