Berlusconi gives Putin a duvet cover for his 65th birthday
Comments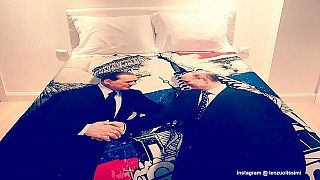 Russian President Vladimir Putin is no doubt a difficult man to buy a birthday present for, but ex-Italian Prime Minister Silvio Berlusconi certainly found an original gift in the form of a duvet cover with a life-size image of the two men.
The gift marks Putin's 65th birthday, which he celebrated on Saturday (October 7).
The long-standing political allies previously spent time together in both Russia and Italy, with a picture of them partying together wearing giant fur hats at Berlusconi's Sardinian villa making headlines.
After the ex-Italian PM resigned from office in 2012 amidst multiple scandals, Putin stood by him saying that he would not have been so unfairly treated if he were gay.
The themed gift came after Putin previously gave the 81-year-old a double bed, where, in 2008, prostitute Patrizia D'Addario alleged Berlusconi slept with her.
The move could strengthen relations between Italy and Russia if Berlusconi follows through with his plans for a bid to take back the role of PM during next year's Italian elections.