Cartoon boat becomes symbol of bitter battle over Catalonia
How Tweety got drawn into the independence debate.

The harbour at Barcelona represents two sides of the bitter split over Catalan's independence referendum.
Point of view
"Hiring a Looney Tunes cruise liner to house Spanish police is bad taste"

Barcelona resident
On the one hand it has seen some of the most hardline of opponents facing off over a siege and on the other it has spawned jokes and light-hearted exchanges on social media.
To accommodate the 5,000 police officers reinforcing the deployment to stop the referendum, the Spanish government chartered two large cruise ships and anchored them in the port.
One of the vessels has caught the attention of many people. It's decorated with Looney Tunes characters like Tweety, Daffy Duck and Wile E. Coyote, roughly covered with tarpaulins.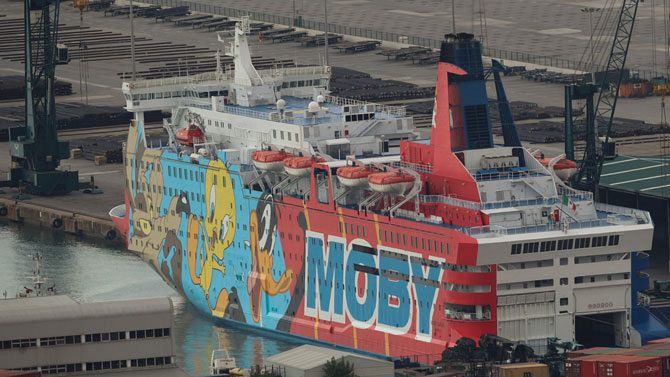 Barcelona's viewpoint Mirador del Migdia, in Montjuïc, has become the best place to get a look at the ship.
"It's a joke, it's grotesque," says Josep Balcells, a Catalan citizen who came to the park to see this peculiar new attraction.
"Hiring a Looney Tunes cruise liner to house Spanish police is bad taste. It's ridiculous. The cartoons have been covered with tarps, but everybody has seen them," observes Quim Portet.
Tourists are also surprised. "Why does the Interior Ministry host Spanish police in a ship like this?" says Míriam V., an Argentinian who says she doesn't really understand what's happening in Catalonia.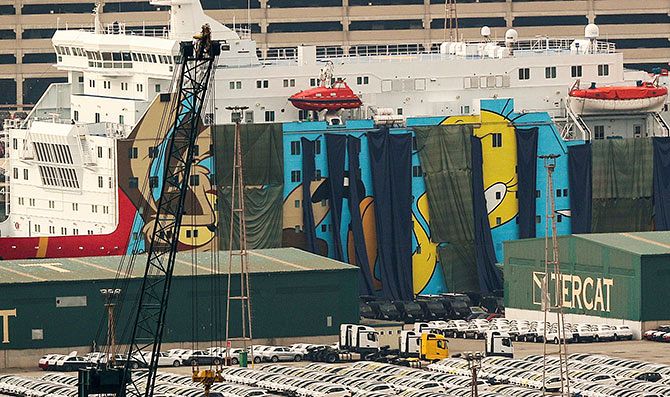 Inside the ship, the ambience does not reflect the figures decorating the hull. Spanish police officers complained about rooms and poor breakfasts. According to the Unified Police Union, it's "miserable".
In addition, harbour stevedores refuse to service the vessels, as they say that there have been "restrictions on civil rights", according to Josep Maria Deop, secretary of Barcelona's harbour stevedores organization. Deop notices, however, that "both ships can supply themselves".
🎤portavozsup</a> 👮🏼desplazados a BCN están trabajando de uniforme y de "paisano", PEDIMOS QUE SE RECONOZCA ESTE TRABAJO <a href="https://t.co/8oOcnC4zpA">https://t.co/8oOcnC4zpA</a></p>— SUP (Sup_Policia) 27 de septiembre de 2017
To break the blockade, some groups of citizens are trying to bring food to the ship, despite being hampered by tight security measures. Some have managed to slip through Iberian ham and Rioja wine to the police.
Decenas de ciudadanos llevan comida a la Policía y Guardia Civil en el puerto de Barcelona pic.twitter.com/gyITs0VSHW

— Sheldon (@numer344) 25 de septiembre de 2017
Antonio Amador was one of those in attendance at the demonstration of support for the security forces last Sunday. They brought bread, sausages, and cans of various products. They don't know if they got to the ship. Anyway, he says that it's a "symbolic" gesture, since the most important point was to show "support" and "gratefulness" to the police.
#FreeTweety, trending topic
Despite the tensions, social media has seen the funny side. Pro-independence campaigners have even sought to co-opt Tweety to their cause. There is a campaign asking for his freedom, after being covered with tarps, with hashtags like #FreePiolin, #FreeTweety or #TotssomPiolin.
"Be strong, Tweety," "Tweety lives, the fight continues" or "I thought I saw a pussy cat who says that on October 1 we will vote to be free" are some of the messages that have been seen on social networks.
By Anna Lladó Ferrer