Ultimate Platini fan wins Guinness record
Comments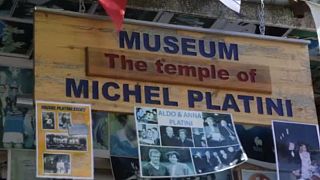 Meet Michel Platini's biggest fan: Philippos Stavrou Platini, from Mosfiloti, Cyprus.
Not only did he legally change his name to include the surname of the French football legend, his kebab shop doubles as a "Museum of Platini".
According to the Guinness Records, it has the world's largest collection of sporting memorabilia and the largest collection of football memorabilia.
The shop is plastered with Platini's image wall-to-wall. There are photos of him as a baby, as a young man and as the middle-aged boss of UEFA, alongside jerseys, shoes, balls and more centred on the player.
"When I was young and playing football, I stood with my hands on my hips and everyone called me 'Platini, Platini.' When I reached a certain age, I began collecting items about the man. To me he's the greatest football player in the world," says Stavrou Platini.
He spent hundreds of thousands of euros building the collection over the past 30 years. Today he has over 40,000 items and aims to reach 50,000.
Alongside more than a dozen jerseys signed by Platini himself, there's the official suit he wore as UEFA president from 2007 to 2015. Platini gave the suit to his 55-year-old admirer as a gift in 2010, a year after he paid a visit to his museum.
Locked in a glass case — along with a Platini-signed 1984 World Cup replica ball — is the tea cup and saucer the Frenchman drank during his visit.
"Craziness is a beautiful thing because my craziness gives me life," Stavrou Platini says.
"I don't care what anybody says, I'll be collecting about Platini as long as I'm alive and I hope that my children, my son and daughter, will continue adding to this collection."
46.000 objetos: la colección más grande de un hincha sobre un futbolista, el caso Philippos Stavrou Platini pic.twitter.com/7DDxoebjL6

— Bitbol (@Bitbol_LA) September 9, 2017