Princess Diana's sons speak about losing their mother
Comments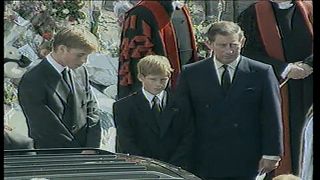 Twenty years after his mother's death, Britain's Prince Harry has defended the way Prince Charles cared for him and his brother William as they grieved.
Princess Diana was killed with her lover Dodi al-Fayed when their limousine crashed in a tunnel in Paris as it sped away from pursuing paparazzi on August 31, 1997.
"I think one of the hardest things to come to terms with is the fact that the people who chased her into the tunnel were the same people that were taking photographs of her whilst she was still dying on the back seat of the car," Harry told the BBC documentary 'Diana, 7 Days' to be broadcast on Sunday.
"William and I know that. We've been told that numerous times by people that know that was the case. She'd had quite a severe head injury but she was very much still alive on the back seat."
Princes William & Harry have given their 'final word' on their mum Princess Diana: https://t.co/qQzN9lS5LKpic.twitter.com/vRZYz4FUmP

— HELLO! (@hellomag) 22 août 2017
Following Diana's death, Britain's royal family was subject to public criticism for its perceived treatment of the princess, who had struggled to fit into the monarchy and deal with her husband's infidelity.
But Harry speaks up for his father, Prince Charles, the heir to the throne.
"He was there for us,"Harry said.
"One of the hardest things for a parent to have to do is to tell your children that your other parent has died."
Also speaking on the film, Prince William describes using his fringe as a "safety blanket" in what he calls the "very long, lonely walk" of Diana's funeral procession in which the young princes followed their mother's coffin through streets packed with vast crowds of mourners.
William and Harry were aged 15 and 12, respectively.
William and Harry open up on devastating moment their dad had to break the news beloved mum Diana was dead https://t.co/iniMA5VPSPpic.twitter.com/SECtyIrvSf

— Mirror Royal (@MirrorRoyal) 22 août 2017
"When you have something so traumatic as the death of your mother when you're 15, as, very sadly, many people have experienced and no-one wants to experience, it'll either make or break you and I wouldn't let it break me. I wanted it to make me. I wanted her to be proud of the person I would become," William said.
The prince also defended Queen Elizabeth's much-criticised decision to keep the family at a remote Scottish castle in the aftermath of Diana's death, saying it had given them the "privacy to mourn".
with Reuters