Trump: not too bright?
While sales for specialist eclipse glasses went through the roof, Donald Trump didn't feel the need to don a pair.
He was photographed looked skyward without any protection.
Although he and wife Melania were later spotted with the glasses on, the US president was mocked online for his gaffe.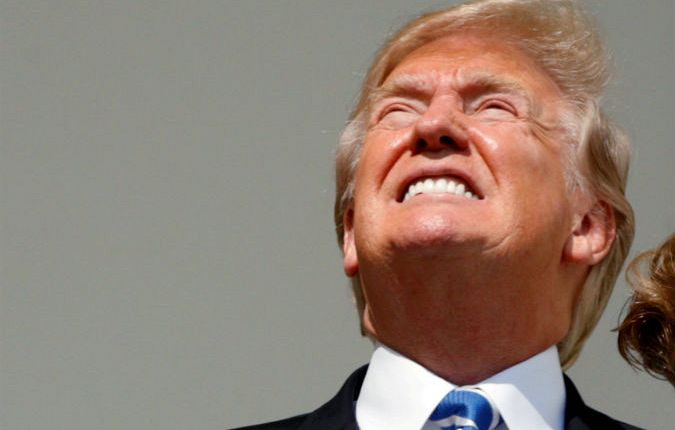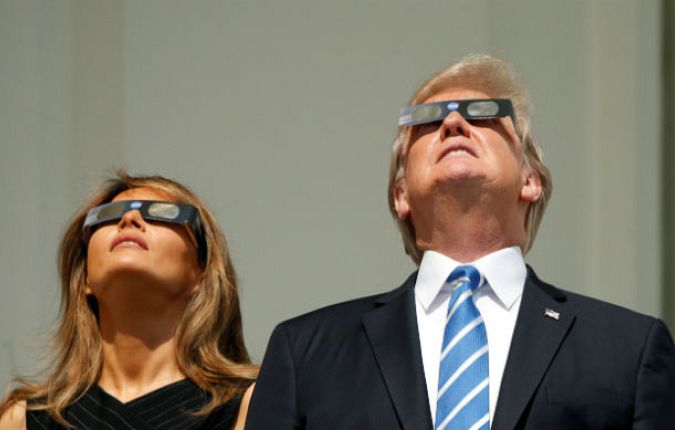 Social media reaction
New York Daily News trolls Trump for staring at eclipse: "Not too bright!" https://t.co/yP3TOZwr7V pic.twitter.com/JcH3gpNHDN

— The Hill (@thehill) August 22, 2017
The answer is no, wearing eclipse glasses doesn't protect you from Trump's stupidity if you watch. #BlackoutTrump #TrumpResign

— Scott Dworkin (@funder) August 22, 2017
Scientists: Don't look straight at sun during eclipse.
Trump: Hold my glasses. pic.twitter.com/1rek35VT1X

— Common White Girl (@CommonWhiteGrls) August 22, 2017
The internauts that stare at goats
One of the most bizarre things to happen for the eclipse was newspaper The Washington Post's Facebook live of …
… some goats.
They wanted to see what happened when fainting or myotonic goats experienced a solar eclipse.
One of the key characteristics of myotonic goats is the tendency for their muscles to become rigid when they are startled.
Experts say the condition is muscular rather than mental.
In any case, the US newspaper tweeted after the eclipse that no goat had fainted.
A week to eclipse all others for Bonnie Tyler?
It's been a good week for Welsh singer Bonnie Tyler.
Her hit Total Eclipse of the Heart has soared to the top of Apple's iTunes chart 34 years after it was released.
Downloads of the song, according to Nielsen Music, increased by 503 percent in the week to Sunday.
There were 12,000 purchases in the US, against 2,000 the week before and just a thousand in the first part of 2017.
How did Tyler celebrate? She performed the song aboard a Royal Caribbean cruise ship 'Oasis of the Seas' on Monday.
'The sun, the moon and my love, all in a straight line'
They were the words of one American, who, while millions of compatriots cast their gaze skyward on Monday for the total eclipse, had his eyes set firmly on a different prize.
Joseph Fleming, 43, went down on one knee in the darkness near the harbour in Charleston, South Carolina, and asked Nicole Durham to marry him.
"The sun, the moon and my love, all in a straight line," Fleming said, laughing, after Durham, 40, said yes.
First total eclipse in US since 1979
No area in the United States had seen a total solar eclipse since 1979, while the last coast-to-coast total eclipse took place in 1918.
Some 12 million people live in the 113-km-wide,4,000-km-long zone where the total eclipse appeared, while hordes of others traveled to spots along the route.
The eclipse first reached 'totality' – the shadow cast when the sun is completely blocked by the moon – in Oregon at 10:15am PDT (19:15 CET) and began spreading eastward.
The phenomenon took its final bow at 2:49pm EDT (20:49 CET) near Charleston, South Carolina.
If you're in Europe, make a date for 2024
The next total solar eclipse will be in South America and the Pacific Ocean in two years' time on July 2, 2019.
The continent will get another treat a year later: December 14, 2020.
There will not be another total solar eclipse in Europe until April 8, 2024. That one will be visible from western Europe, as well as North America.
US family's very own ray of sunshine
A baby girl has been named Eclipse after being born in the hours before the solar extravaganza, reports NBC News.
She was born in Greenville, South Carolina, on Monday despite not being due until September 3.
'My eyes hurt' searches rise
A graphic on what people were searching the web for in the hours after the solar eclipse offers a hint at people's health concerns around looking at the rare extravaganza.
Google Trends data for New York shows search terms like 'my eyes hurt' sky-rocketed just after the event.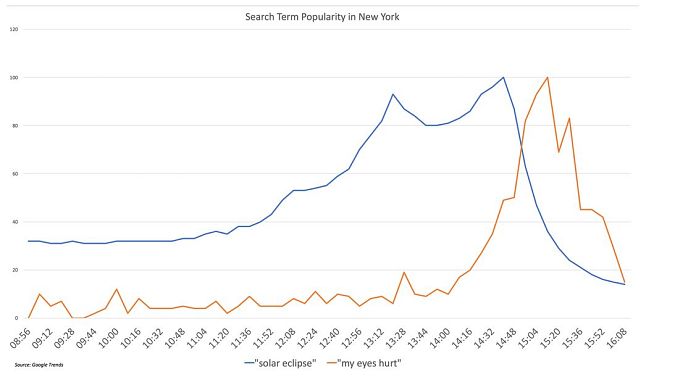 ---