Skywatchers in the United States have been gathering to watch a total solar eclipse making a rare coast to coast march across America.
Millions of people watched across 14 states. It was the first time in 99 years where the path of darkness crossed both the Pacific and Atlantic coasts.
This was the moment the Moon passed in front of the Sun, casting a deep shadow that swept over the nation from Oregon in the west to South Carolina in the east.
Of course there were plenty of tips on how to watch the eclipse safely – with twitter having fun and US networks posting sound advice…
Eclipse glasses for everyone! #SolarEclipse2017 pic.twitter.com/AZHyJL6E7B

—

TODAY

(@TODAYshow) August 21, 2017
People stood together on mountaintops and in open fields, in the middle of America. They stood on rooftops and city pavements. From beaches on the West Coast to beaches on the East, the moon's shadow fell.
Shadow being cast from the #SolarEclipse2017 as seen on #satellite. pic.twitter.com/6sImEWDYVW

—

NWS

Bay Area (@NWSBayArea) August 21, 2017
Then, for a couple of minutes only, silence fell, and they watched. From behind the moon, the fiery star spewed flames miles high – you can clearly see the patches of orange glow.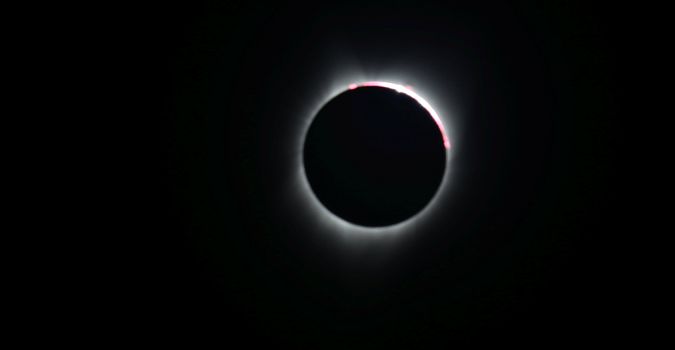 In Washington, members of the media donned their comedy glasses to watch the dark shadow engulf the White House, although it was only a partial eclipse.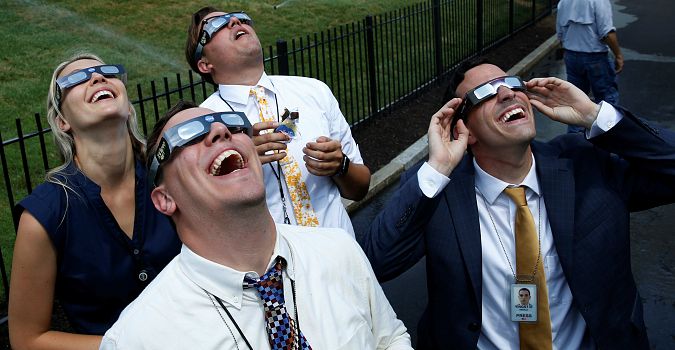 The Attorney General Jeff Sessions and Commerce Secretary Wilbur Ross couldn't resist a sneak peak, the pair were seen watching the eclipse from the Truman Balcony at the White House.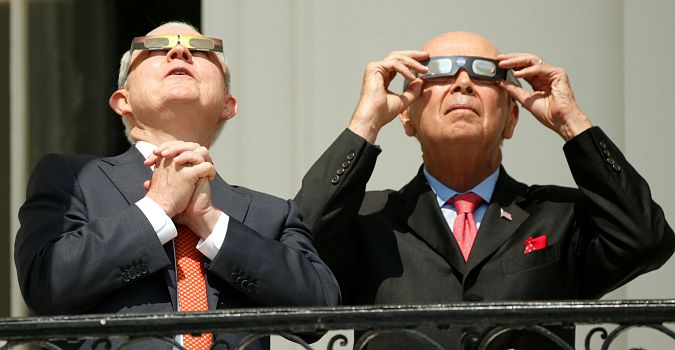 Even the President himself stood and pondered for a moment alongside the First Lady and their son, Barron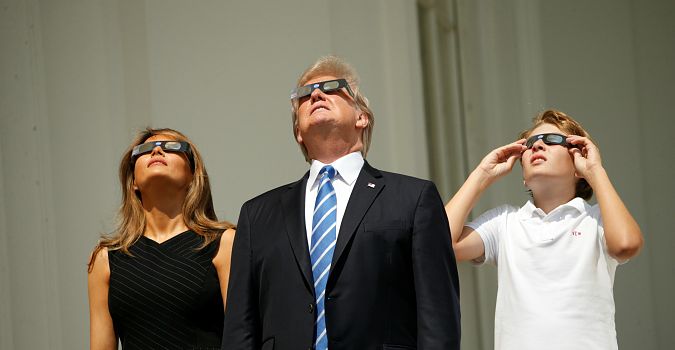 At one point, the President even tried to view the spectacle without his spectacles…
Trump looked directly at the solar eclipse without glasses and no one was surprised https://t.co/YqWbMFuN3O pic.twitter.com/tWXOknLE9y

— Mashable (@mashable) August 21, 2017
Perhaps the requirement to use protective glasses to view the solar eclipse was all just fake news?
For more pictures, visit our Facebook Page
IT'S FANTASTIC ❤ #SolarEclipse2017 pic.twitter.com/DWPfI8BG5j

— Simo,, 🌸 (@Simona__ma) August 21, 2017
You probably saw #SolarEclipse2017 from Earth…but what did it look like from space? Check out these Space_Station</a> views: <a href="https://t.co/6uPdyRFbXs">pic.twitter.com/6uPdyRFbXs</a></p>— NASA (NASA) August 21, 2017
---