Venezuela's Maduro pushes for talks with President Trump
Comments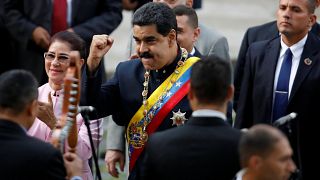 The Venezuelan President Nicolas Maduro says he wants a meeting with US President Donald Trump.
During a lengthy address to members of the new constitutional assembly, Maduro instructed the nation's foreign minister to set up the meeting.
"Initiate negotiations Chancellor, so I can have a personal conversation with Donald Trump, initiate negotiations so I can have a telephone conversation with Donald Trump," said Maduro. "Because if I travel to New York, in a few weeks to the United Nations, to have a meeting with Donald Trump, if you are so interested in Venezuela, here I am, here is the chief of your interest, Nicolas Maduro Moros, constitutional president of the Bolivarian Republic of Venezuela. Mr Donald Trump, here is my hand – if it is about hands, here is my word."
The Trump administration has called Maduro a "dictator" and issued sanctions against him and more than two dozen other former and current officials.

Venezuelan Pres. Maduro, whom Trump admin has called a "dictator," said Thursday he wants to meet with Pres. Trump. https://t.co/CP7bsHHbfOpic.twitter.com/uaoK8RhT7d

—

ABC

News (@ABC) August 11, 2017