Violent clashes in Buenos Aires
Comments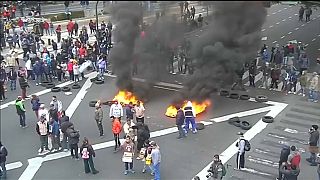 There have been violent scenes on the streets of Buenos Aires as protestors clashed with riot police.
Several people were arrested although there has been no official confirmation of
the numbers detained.
Who are the protestors?
Local media say they are from a number of radical leftist groups in Argentina. They accuse President Mauricio Macri of stoking poverty and inequality through his free-market policies.
Macri has sought to push through austerity measures to get tthe debt-ravaged country's economy back on track.
However, mid-term elections in October could undo his plans.