Venezuela to quit Organisation of American States as protests continue
Comments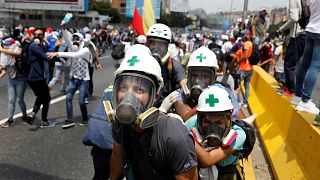 Venezuela's security forces have clashed with opposition protesters for another day, as the death toll from the anti-government unrest reaches at least 29.
Amid the turmoil, the government announced it is to quit the Organisation of American States or OAS in anger at pressure over the government's handling of the crisis.
The OAS has voiced concern over the state of democracy in the country which has seen its worst violence since 2014 as protesters take to the streets calling for fresh elections.
"We are dying of hunger, from a lack of medicines," said one demonstrator in Caracas. "If a man dies during a protest, we are going to die anyway of hunger, That is what is happening with this government."
Protests began early in April and deaths have occurred in both pro and anti-government camps.
Government supporters have held rival rallies to show their loyalty to President Maduro, who accuses his foes of plotting a violent US-backed coup.
Maduro told supporters that the opposition "do not want peace, they have hit a dead end and want to drag us all down their path."
The decision to leave the Organisation of American States deepens Venezuela's diplomatic isolation, as the country struggles amid a crippling recession.