Football fans unite in Dortmund
Comments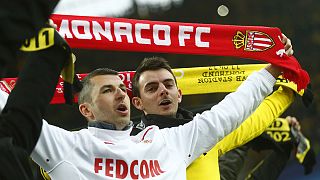 Whatever the eventual outcome of the Champions League match between Borussia Dortmund and Monaco, it was the spirit of solidarity which won the day.
Dortmund fans opened their doors to stranded Monaco supporters after the game was postponed for 24 hours following three blasts which targeted the Dortmund team bus.
Beds for the night were offered and gratefully received, meals shared – the rivals were, for a while, really united.
From Borussia Dortmund with love ❤️

The #BVB fans proved that football is united amongst all odds #BVBASM#Dortmund#bedforawaysfanspic.twitter.com/Jqeo0nfR68

—

BET

A

BONUS

(@BetABonus) April 12, 2017
"I think yesterday a link was created between Dortmund fans and Monaco fans, and I think it was the main thing we can learn form yesterday night," said 24-year-old Etienne Mas, an AS Monaco fan.
Who knows if some of the friendships forged will last but for a period of 24 hours football warranted being called "the beautiful game".