Pope offers condolences after Christian bloodshed in Egypt
Comments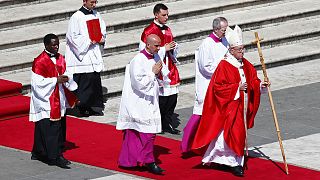 Pope Francis has condemned Sunday's violence against Coptic Christians in Egypt, where deadly double attacks are sure to raise security concerns over his own forthcoming trip to the country.
He was celebrating Palm Sunday Mass in front of tens of thousands of people in St. Peter's Square when the Vatican received word of the first explosion at a Coptic church in the Nile Delta city of Tanta.
Francis sent his condolences to Coptic Pope Tawadros who escaped unharmed from the later deadly bombing in Alexandria, as well as to the Coptic Church and the Egyptian nation.
"I pray for the dead and the victims," he said
#PalmSunday: Pope Francis decries suffering caused by terrorism https://t.co/rqbTJvFY3e

— Catholic Herald (@CatholicHerald) 9 avril 2017
"May the Lord convert the hearts of people who sow terror, violence and death and even the hearts of those who produce and traffic in weapons."
Francis, due to visit Egypt on April 28-29, also remembered the victims of Friday's deadly truck attack in Stockholm.