Some 700 migrants were rescued at sea on Wednesday by humanitarian groups operating rescue ships off the coast of Libya, said Italy's coast guard.
The Phoenix rescue ship, operated by the Malta-based non-governmental organisation MOAS, rescued more than 300 people from three boats in international waters off the coast of the Libyan city of Sabratha.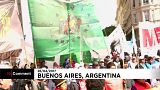 Farmers in Buenos Aires are giving away their produce to people in protest over conditions for small-scale producers.