FIFA reveals allocation plan for 2026 World Cup
Comments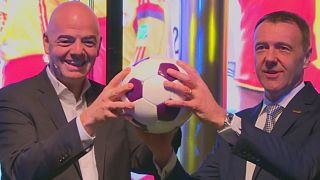 Two months after FIFA decided to expand the 2026 World Cup from 32 teams to 48, football's world governing body has revealed its allocation plan for the competition.
Should the proposals be ratified, Europe would get 16 direct places, Africa nine, Asia eight, South America six, CONCACAF six and Oceania one, totalling 46 teams.
The host nation would qualify automatically and its slot would be taken from its confederation's quota.
The two remaining places would be decided by a six-team playoff tournament which would take place in the World Cup host nation, with November 2025 suggested as a possible date
The proposals will be submitted to the FIFA Council at its next full meeting in Bahrain in May for a final decision.
BREAKING: #FIFA announces allocation plan for 48-team World Cup with CONCACAF, potentially, the big winners https://t.co/7BXK2BK4uL

— Joe Prince-Wright (@JPW_NBCSports) 30 March 2017