Taronga Zoo's baby pygmy hippopotamus – the first born in seven years – made its first public appearance in Sydney on Friday (March 17, 2017).
The female calf was born to first-time parents Fergus and Kambiri in February.
Pygmy hippopotamuses are classified as endangered, with fewer than 3000 left in the wild.
Taronga Zoo will soon hold a competition to help choose a name for the calf.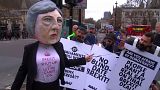 Demonstrators stage a protest outside of the Houses of Parliament ahead of the British PM Theresa May, triggering Brexit with Article 50.