Poland to seek extradition of US suspected WWII criminal
Comments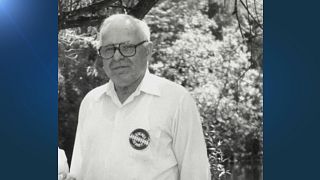 Polish authorities say they will seek the arrest and extradition of a US citizen suspected of committing crimes against humanity during the Second World War.
Michael K – identified during an Associated Press investigation as Michael Karkoc – is accused of being a Nazi commander in an SS-led unit that razed Polish villages and killed at least 44 civilians.
Evidence allegedly points to the now-98-year-old Karkoc leading a unit in the Ukrainian Self Defence Legion and ordering killings in eastern Poland in 1944.
His son, Andriy Karkoc, denies he was involved in any war crimes.
"The fact that the Associated Press was handed a dubious 1968 KGB interrogation file of dubious origins does not qualify as evidence or proof."
Polish prosecutors are now seeking an arrest warrant for the Minneapolis resident, saying his age would not stop the investigation.
Prosecutor Andrzej Pozorski said:
"The collection of evidence, allowing us to find the responsible party for genocide and crimes against humanity has been a great success. This case shows that such a possibility still exists, or at least there is still a chance of bringing those responsible to justice. I think that we should never stop pursuing suspects as long as there is even the slightest chance to get justice.