Thousands of protesters in Sydney on Saturday (January 21) joined the first of hundreds of womens' marches organised around the world in a show of disapproval of U.S. President Donald Trump as he began his first day in office.
Some 673 "sister marches" are planned worldwide for Saturday, in addition to a protest in Washington D.C., according to the organisers' website which says more than two million marchers are expected.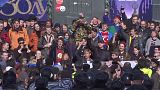 Thousands of people crowded into Moscow's Pushkin Square on Sunday for an unsanctioned protest against the Russian government.