Cyprus talks to resume soon amid 'last effort' to find solution
Comments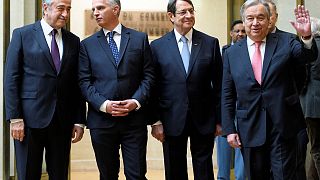 Talks to resolve the 40-year division of Cyprus ended without agreement on Thursday night but there are plans for officials to meet again in a week.
The discussions in Geneva were attended by a top-level EU delegation as well as the three guarantors of the process – the Greek, Turkish and British foreign ministers.
Next week's resumption will see officials gather to discuss security – more talks on the overriding political issue will follow at an unspecified date.
Some 30,000 Turkish soldiers are stationed in the north of the island. Athens and the Greek Cypriots are calling for their removal. Ankara and the Turkish Cypriot delegation are pushing for them to stay.
Turkey's Foreign Minister Mevlut Cavusoglu said there were still very important matters that had been neither resolved nor closed. He accepted that the Greek side wanted more time to discuss the issues.
The parties are trying to reach a deal on security in parallel with political negotiations on a comprehensive federal settlement.
The east Mediterranean island has been partitioned between ethnic Turks and Greeks since 1974, when Turkish forces invaded in response to an abortive Athens-inspired coup aimed at union with Greece.
The Greek Foreign Minister Nikos Kotzias suggested his side could agree on an international group being set up under the aegis of the UN Security Council to monitor the decisions being put into practice. "It's obvious that our side… wants the military to leave the island," he added.
"We could agree on the creation of an international group which would observe under the aegis of UN Security Council how the implementation of the decisions will proceed. It's obvious that our side doesn't want interference rights and it wants the military to leave the island".
Statement from the #ConferenceonCyprus: https://t.co/EHtMjDNr8Xpic.twitter.com/KGJYqHP167

— UN Cyprus (@UN_CYPRUS) January 13, 2017
Also present at the talks was the new United Nations Secretary General Antonio Guterres. This is his first major involvement in a conflict which hosts one of the UN's longest-serving peacekeeping forces.
"The talks for the rest of the issues will also go on, while the UN Secretary General said that he hoped that everybody would make a "last effort" to find a solution at the next meeting," euronews correspondent Efi Koutsokosta reported from Geneva.
Searching for the missing dead of Cyprus https://t.co/wjQhXMHbP9

—

BBC

News (World) (@BBCWorld) January 13, 2017