Severe snow storms wreak havoc across central Europe
Comments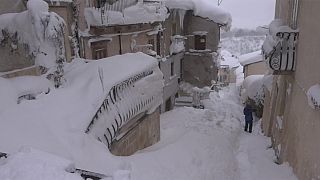 At least 25 people have been killed in central Europe as a result of severe frost and snow storms.
In Poland, 17 people died of the cold over the weekend, bringing the death toll since November to 65.
Temperatures have dropped to minus 30 degrees Celsius in the Czech Republic where mostly homeless people have fallen victim to the cold snap.
In Bulgaria, snowfall and high winds blocked roads and left more than 75,000 households without power. In some areas, almost a metre of new snow has fallen over the last two days.
Elsewhere, dozens of flights, ferries and trains have been cancelled with travel heavily disrupted in Italy.
Weather forecasters expect the extreme weather to continue for several days, giving an unusual white coating to a number of towns in the south of the country.