DRC: Clashes in Kinshasa 'kill more than 20'
Comments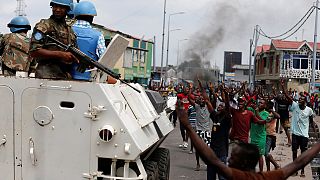 Clashes in Kinshasa appear to have left more than 20 civilians dead, the UN reports, citing 'pretty solid information'.
Security forces fatally shot several protesters who had gathered in the capital of the Democratic Republic of Congo to demand that President Joseph Kabila step down.
"On the issue of deaths, it looks bad," Jose Maria Aranaz, the UN human rights director for the country, told the press. We are reviewing allegations of up to 20 civilians killed, but it (the information) is pretty solid."
Kabila's mandate was supposed to have ended overnight between Monday and Tuesday (December 19-20) and the constitution states that he is not allowed to seek a third term in office.
Main opposition leader Etienne Tshisekedi posted a video on social media, calling on people to peacefully resist the leader, who has not held elections to determine a successor.
"I launch a solemn appeal to the Congolese people to not recognise the… illegal and illegitimate authority of Joseph Kabila and to peacefully resist [his] coup d'état," he said.
However, access to social media has been limited in the country, AFP news agency reports, meaning local people were not able to see the video.
Kabila, who has been in power for 15 years, recently had his rule extended to 2018. He initially took control of the country in 2001, after his father, Laurent Kabila, was assassinated.
The electoral commission cancelled a ballot scheduled for November, 2016, for what it claimed were logistical and financial problems. Kabila has since formed a 74-member transitional government to lead the country until a vote is held in two years' time.
Scores of people have reportedly been arrested at protests across the country.
Gunfire was also heard in the DRC's second city, Lubumbashi, but there are no details about who was responsible for the shooting.