Ambassador assassination "a provocation" says Russia and Turkey
Comments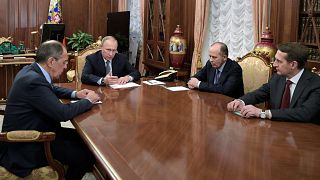 The assassination of Russia's ambassador to Turkey, Andrei Karlov, brought a swift response from the leaders of both countries.
After a joint phone call President Vladimir Putin and President Recep Tayyip Erdogan agreed it the motive must have been to damage relations between their two countries.
"The committed crime is undoubtedly a provocation aimed at derailing the ties between Russia and Turkey, as well as the peace process in Syria which is actively promoted by Russia, Turkey, Iran and other countries interested in the regulation of the Syrian conflict. There's only one possible response to this – the strengthening of the fight against terror, which the bandits will feel directly," said Russia's president.
The attack has come at a bad time: Moscow and Ankara have only recently restored diplomatic ties after Turkey downed a Russian aircraft in November 2015.
Turkish President Erdogan however delivered the same message as Putin following their phone call:
"After the incident [attack on the Russian ambassador], during a conversation with Mr. Putin, we agreed this is indeed a provocation about that there is no dispute."
"The Russians suggested it would be more effective to carry out a joint investigation and there is no problem from our side for their officials and ours for the duration of the case."
Putin has ordered security at Turkish diplomatic facilities in Russia to be stepped up and has demanded that the same be done for his envoys in Turkey.
A planned meeting in Moscow between the foreign and defence ministers of Russia, Iran and Turkey to discuss the future of Syria is expected to go ahead today (Dec 20) despite the murder.
speculation
Turkish security officials have already alleged possible links of the Gulen network to the death of the Russian envoy. The movement of US-based cleric Fethullah Gulen has however condemned the attack and rejected any connection with the attacker. (Erdogan has blamed Gulen supporters for the failed coup attempt in Turkey earlier this year.)
Suspicion could also fall on a group such as ISIL, which has carried out a string of bomb attacks in Turkey in the last year as Ankara has pressed a military campaign against the militants in Syria. The group has urged "lone" attacks in the West.