Photographer tells of dramatic moment he captured ambassador's murder in Turkey
Comments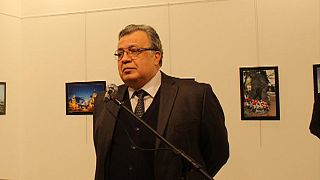 As other petrified onlookers dived for cover during the cold-blooded murder of Russia's ambassador to Turkey, one stood firm and kept his cool.
Associated Press photographer Burhan Ozbilici has been describing the dramatic moment he captured gunman Mevlut Mert Aydintas shoot Andrei Karlov.
"The gunshots, at least eight of them, were loud in the pristine art gallery," he wrote. "Pandemonium erupted.
"People screamed, hid behind columns and under tables and lay on the floor. I was afraid and confused, but found partial cover behind a wall and did my job: taking photographs."
Ozbilici was undertaking a routine assignment at the exhibition, which featured a speech by Karlov, Russia's representative in Turkey for the last three years.
He said Karlov had been speaking softly and calmly prior to the mayhem that ensued.
"The gunshots in quick succession, and panic in the audience. The ambassador's body lay on the floor, just metres (yards) away from me.
"It took me a few seconds to realise what had happened: A man had died in front of me; a life had disappeared before my eyes."
Ozbilici retreated to the left as the crowd was cowering on the opposite side of the room.
"The gunman was agitated. He walked around the ambassador's body, smashing some of the photos hanging on the wall.
"I was, of course, fearful and knew of the danger if the gunman turned toward me. But I advanced a little and photographed the man as he hectored his desperate, captive audience."
Security guards then ushered people out of the room, added Ozbilici.
Footage shows the gunman shouting 'Don't forget about Aleppo' and 'Allahu Akbar' around the time of the murder.
The off-duty police officer was later shot dead.