Riot officers regain control of British jail
Comments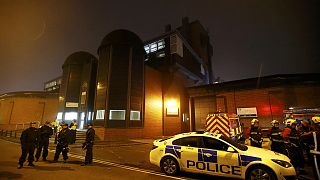 Police have regained control of one of Britain's biggest jails hours after a huge riot broke out.
Up to 600 inmates took over four wings of the privately-run prison in Birmingham.
Staff were forced to withdraw when trouble erupted on Friday morning, according to security firm G4S, which runs the facility.
The body representing Prison officers says the UK's jails are in a parlous state.
Mike Rolfe, from the Prison Officers Association said: "We've been saying for a long time that there's been a lack of investment in the system, there's been a lack of staff. Birmingham has lost over 30 staff in the last few weeks for resignation, people just not wanting to work there, in such a difficult and dangerous job. And the whole service is in crisis."
So called specialist 'Tornado' teams were brought in on Friday evening to quell the riot.
Three inmates were reported to have been wounded, one badly.
The unrest in Birmingham, described as the worst in the country since the Strangeways prison riot in Manchester 26-years ago, is just the latest in a number of serious incidents in British jails this year. Last month, inmates took over parts of Bedford prison.
The government has unveiled plans to reform prisons and improve safety.