Egyptian beekeeper Mohamed Hagras grows a "beard of bees" to demonstrate the usefulness of the honey-producing insects and to show that they aren't aggressive.
The 31-year-old engineer-turned-beekeeper has been doing this for years, both competitively and as an effort to educate Egyptians on the usefulness of bees.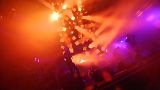 The French city of Lyon's "Nuit Sonores" electronica festival has kicked off for its 15th edition.