A full-scale, wearable and adjustable model of a space suit designed for the first Mars landing underwent testing on Monday (5 December) at the Rhode Island School of Design. Staff members and students have been working on the design for over a year.
The new suit is expected to be tested during the next Mars simulation mission in Hawaii in 2017.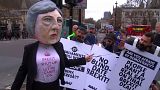 Demonstrators stage a protest outside of the Houses of Parliament ahead of the British PM Theresa May, triggering Brexit with Article 50.