Tens of thousands of South Koreans rallied in Seoul on Saturday demanding the ousting of President Park Geun-hye, one of the biggest protests in the country since its democratisation about 30 years ago.
It is the latest of a wave of rallies against Park, whose presidency has been shaken by suspicion that she let a shadowy long-time confidante to manipulate power from behind the scenes.
South Korean prosecutors are now seeking to question Geun-hye over the scandal, it emerged on Sunday (November 13).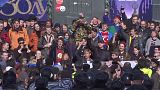 Thousands of people crowded into Moscow's Pushkin Square on Sunday for an unsanctioned protest against the Russian government.