He turned 'You're fired' into his reality show catch-phrase, but it was Donald Trump who went up in flames – or at least an effigy of him did – as part of the UK's annual Bonfire Night celebrations.
An 11-metre-high model of the Republican U.S. presidential candidate was burned at a fireworks display in the town of Edenbridge, 50 km south of London.
"I think he would be quietly amused," artist Frank Shepherd said of his muse.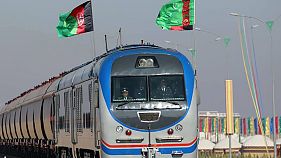 The presidents of Turkmenistan and Afghanistan on Monday officially opened a new railroad that will link the oil-rich former Soviet republic with Afghanistan.